Merrill Lynch Loses $2-Mln Puerto Rico Bond Dispute with Ex-MLB Outfielder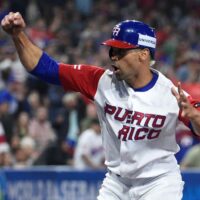 Source: AdvisorHub
By Vicky Ge Huang
A NASD arbitration panel has ordered Merrill Lynch to pay former Major League outfielder Ángel Pagán and his wife more than $2 million for investing them in "unsuitably high concentrations" of Puerto Rico municipal bonds and closed-end bond funds.
The award, which a NASD spokeswoman said is the highest contested award to date in a Merrill Puerto Rico case, includes $1.7 million in compensatory damages, plus $89,000 in costs and interest calculated at 4.5%, according to an award statement published by NASD on Tuesday. The couple's request for $6 million in punitive damages was denied by the panel of three public arbitrators in San Juan.
Pagán, 38, retired from the major leagues at the end of the 2016 season after a ten-year career primarily as a center fielder with the Chicago Cubs, the New York Mets and the San Francisco Giants (which won the World Series in 2014 while he was on the disabled list). He signed into the Mets farm system when he was 18, and retired at age 35.
The Pagáns became clients of Merrill Lynch in 2012 when their broker, Alex Jose Gierbolini, moved from UBS Financial Services, according to the award summary of their claim that they filed in June 2017. (UBS has battled more litigation than any other firm over the collapse of Puerto Rico bonds, and bank CEO Sergio Ermotti said Tuesday that about $1 billion of claims from customers remain outstanding. In 2016 and 2017, it was ordered to pay two individual awards of over $18 million.)
Gierbolini changed the Pagáns' investment objective from "income" to "total return" after he moved to Merrill without notifying them, according to the claim, leaving them with "unsuitably high concentrations" of Puerto Rican muni bonds and closed-end funds. They lost more than $2 million on the investments made between 2012 and 2016, it said.
Gierbolini, who was not named in the complaint, has 24 customer disclosures on his BrokerCheck record. He did not respond to a request for comment.
"We are disappointed with the panel's decision," said a spokesman for Merrill, which also lost its request to expunge the complaint from Gierbolini's BrokerCheck history.
Merrill had argued that the Pagáns were well diversified, according to their Florida-based lawyer, Lloyd R. Schwed. He said the firm and Gierbolini encouraged them to add to their $3-million-plus Puerto Rico debt portfolio between 2012 and 2016, long after it had knowledge of problems with the territory's finances.
"The Pagáns are very pleased and thrilled with the award because it was a big vindication for them," he said. "Although we had hoped the panel would send a message to Merrill Lynch with punitive damages, we recognize that it is very rare for NASD arbitration panels to award [them]."
NASD in November 2016 ordered Merrill to pay a $6.25 million fine and restitution of $780,000 for failing to adequately supervise the use of leverage in the accounts of customers, many of whom had modest net worths and conservative or moderate investment objectives. At least 75% of the accounts cited in the sanction were invested in Puerto Rican securities.
Gierbolini began his brokerage career with Dean Witter Reynolds Inc. in 1997, and also worked at (Banco) Popular Securities Inc. before moving to UBS in 2000 and to Merrill in 2012.
---
Ex-Baseball Star Wins Against Merrill Lynch
Source: Barron's
By Ross Snel
Former Major League Baseball outfielder Angel Pagan has prevailed against Merrill Lynch in an arbitration case involving Puerto Rican bonds.
A Finra panel ordered Merrill Lynch to pay Angel and his wife Windy $1.7 million in compensatory damages and $88,758 in costs, InvestmentNews reports. The panel also ordered the brokerage to pay 4.5% interest on the damages from June 2017 until the award date.
Finra is the self-regulatory organization for the brokerage industry.
In a 10-year professional career that ended in 2016, Pagan played for the Chicago Cubs, New York Mets and San Francisco Giants.
Pagan and his wife claimed they lost about $2 million in the fall of 2013 when the Puerto Rican bond market cratered. He had invested a total of $3.3 million in Puerto Rican bonds and closed-end funds, according to InvestmentNews. His broker, Alex J. Gierbolini, and Merrill Lynch failed to pay attention to warnings in February 2013 that Puerto Rican bonds would be devalued, Pagan's lawyer, Lloyd Schwed, tells the publication.
"The Pagans are thrilled with the award … because it essentially made them whole and returned all of their losses," Schwed says.
"We are disappointed with the panel's decision," a Merrill spokesman is quoted saying.